Watch now the UK Dance Blessing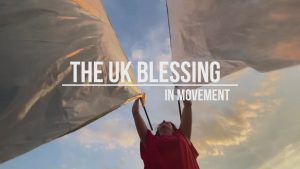 Following the release of The Blessing UK at the beginning of May 2020, Anna (UC Grace) and Prinith (MIW Birmingham Base leader) felt led to respond to a call from God to gather the movers and dancers of the UK to move a blessing and prayer over the area that people lived in. It's vision was to –
Mobilise a dancing army across the UK, which collaborating with dancers, dance ministries and worshippers. Whose heart it was, was to pray a blessing for the area they live in using dance and movement.
Amazingly over 200 dancers and movers responded to this call to step out and move a blessing and prayer for the people around them and the place they live in. Quite literally a dancing army mobilised across all 4 nations of the UK.
We pray as you watch this that you are blessed and know that God is with you, that there is a Hope bigger than you realise to get you through those times of struggle.. That no matter what you are going through there are people praying for you, not always in words, but instead with movement.
Movement expresses what words can not.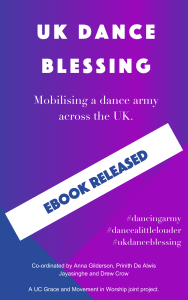 Alongside this video we have also released an eBook of testimonies of how God spoke to those that moved and responded to his call. Join their journey and hear the impact that dancing had on the dancers themselves.
The ebook can be downloaded from:-
https://ucgrace.co.uk/Blog/the-uk-dance-blessing-is-released/