Date/Time
12 September 2020
10:00 am - 6:00 pm
Location
EFG Kreuzberg
Bergmannstraße 22
10961 Berlin
Bewegte Fürbitte – Intercessory Movement – Berlin, Germany
The Berlin base of Movement in Worship is hosting a workshop to explore the connection between intercession and movement. This workshop will be presented in German by our licensed teachers.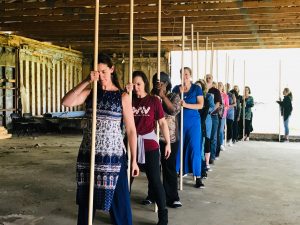 Herzliche Einladung zum
Movement in Worship Workshop Bewegte Fürbitte
Gott sucht leidenschaftliche Anbeter und Fürbitter, die für ihr Land in den Riss treten. In diesem Workshop wollen wir gemeinsam die Verbindung zwischen Bewegung und Fürbitte entdecken und vertiefen. Dabei werden wir in eine ganz neue Dimension von Kommunikation mit Gott eintauchen. Neben biblischer Lehre und Bewegungsübungen wird es Zeiten der Vertiefung in Anbetung und Gebet geben. Am Nachmittag wollen wir hinaus in den nahegelegenen Park gehen und das Gelernte in die Praxis umsetzen.
Zeit: Samstag, 12.09.2020, 10-18 Uhr
Ort: Evangelisch-Freikirchliche Gemeinde Berlin-Kreuzberg, Bergmannstraße 22, 10961 Berlin
Trainer: Sandra Kretschmer und Franziska Piechocki
Kosten: 40 €, ermäßigt 35 €. (Geld soll kein Hinderungsgrund sein. Bitte sprich uns an, wir finden eine Lösung.)